MacBook Air SSD
I was reading about MacBook Pro Retina Display review by AnandTech. It was a wonderful and thorough review, examining inch by inch the new cool stuff. Apple's attention to details has struck me again, especially in the part where they are writing their own filter routines for achieving smooth experience with the retina display.
In this review, Anand was comparing the new MacBook Pro with other Apple's product, the mid 2010 MacBook Pro, the mid-2011 11" and 13" MacBook Air. I do not want to go details here, as you can read it in the article, but I would like to highlights a section of review that caught my attention.
Anand was examining the new retina MacBook Pro SSD read performance, comparing to other products. As you can see in the image below, the mid-2011 MacBook Air has SSD from two vendors, Samsung and Toshiba.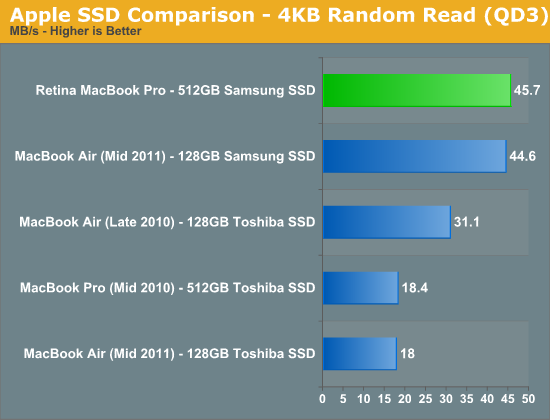 The MacBook Air with Toshiba performance is really poor compared to the one with Samsung. One thing crossed my mind, will Apple accept someone's claim, because the Toshiba performance is disappointing. In my opinion, it's not fair for the unfortunate ones who owns the Toshiba MacBook Air.
Back to Blog